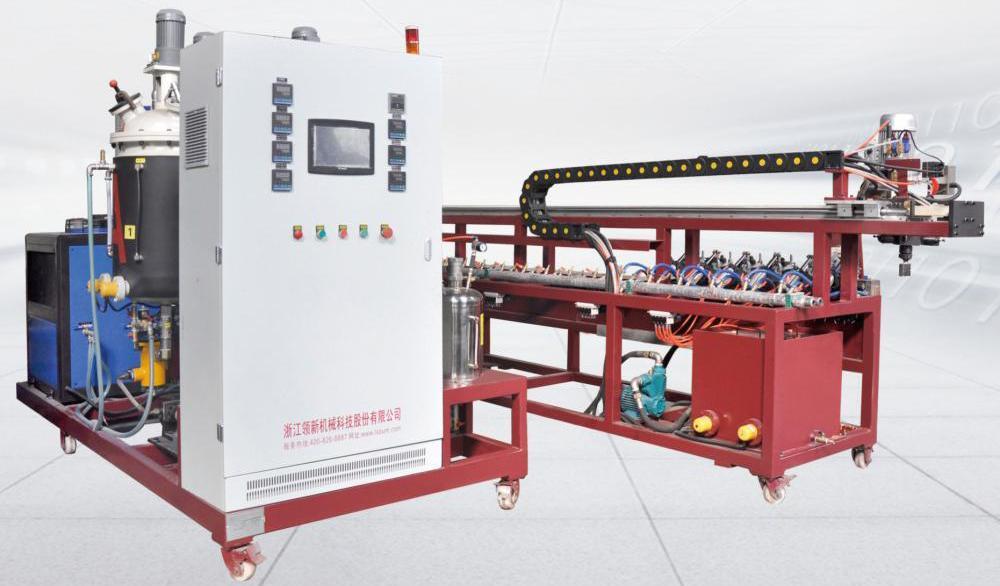 Recommended application
The polyurethane foam processing ear plug line is used to produce PU noise cancellation earplugs, sponge earplugs for headphones, sleep earplugs, multi-functional sound insulation earplugs and more.
Application
Technical parameters
Raw material viscosity (22℃)
polyhydric alcohol: 3000MPas
polyisocyanate: 1000MPas
Injection flow rate
5-20g/s
Mix ratio
100:50~100:150
Injection time
0.5~99.99 S (Accurate to 0.01 S)
Material temperature control error
±2℃
Repeated injection accuracy
±1%
Volume of tank
120L
Compressed air consumption( dry and no oil)
P: 0.6-0.8MPa
Q: 600NL/min
Heating power
25Kw
Input voltage
three-phase five-wire, 380V
Composition
1. Low pressure casting machine
2. Mold mounting rack
3. Automatic opening and closing mold mechanism, including mold opening mechanism, mold closing mechanism, lamination mechanism, ∅67×250 cylinder.
4. Machine head self-propelled mechanism, including belt, pulley, bearing, bearing seat, bearing seat mounting plate, 1.5kw servo motor.
5. Circulating water insulation system, including water pipe, water heating box, water pump.
6. Electrical appliance control
Detailed drawing
Features
1. The PU low-pressure foaming machine is a self-developed piece of equipment from Lingxin. The raw materials are evenly mixed to ensure the raw material proportions are precise.
2. The equipment is equipped with 15-45 work positions, thus meeting requirements for simultaneous production using multiple molds.
3. The machine head uses a servo motor to drive the belt and automatically control walking. ★The machine head runs smoothly during operation, and the running speed is adjustable from 3m/min to 8m/min.
4. The equipment features automatic and manual opening and closing of the mold.
5. The mold uses an entire situation insulation system, using water as the insulation medium. The temperature is adjustable from 40℃ to 70℃.
6. The rack bottom is equipped with an automatic height adjustment function, which adjusts equipment height for convenient manual operation.
Models
This is product model table for customers to choose from. If you do not find a model that suits your needs, contact Lingxin directly, and we will customize polyurethane equipment that meets your needs.
LXPU-EPU-15 Polyurethane Foam Processing Ear Plug Line
| | | | | | | | | |
| --- | --- | --- | --- | --- | --- | --- | --- | --- |
| Foam type | Number of work position | Injection flow rate( mix ratio =1:1) | PLC system | Polyether polyol metering pump | Isocyanate metering pump | Volume of tank | Total power | Size |
| Flexible foam | 15 | 5-20g/s | Fatek | JR-6 | JR-2.4 | 120L | 25KW | L5800×W1100×H1350 mm |
---
LXPU-EPU-20 Polyurethane Foam Processing Ear Plug Line
| | | | | | | | | |
| --- | --- | --- | --- | --- | --- | --- | --- | --- |
| Foam type | Number of work position | Injection flow rate( mix ratio =1:1) | PLC system | Polyether polyol metering pump | Isocyanate metering pump | Volume of tank | Total power | Size |
| Flexible foam | 20 | 5-20g/s | Fatek | JR-6 | JR-2.4 | 120L | 28KW | L6300×W1100×H1350 |
---
LXPU-EPU-25 Polyurethane Foam Processing Ear Plug Line
| | | | | | | | | |
| --- | --- | --- | --- | --- | --- | --- | --- | --- |
| Foam type | Number of work position | Injection flow rate( mix ratio =1:1) | PLC system | Polyether polyol metering pump | Isocyanate metering pump | Volume of tank | Total power | Size |
| Flexible foam | 25 | 5-20g/s | Fatek | JR-6 | JR-2.4 | 120L | 30KW | L6800×W1100×H1350 mm |
---
LXPU-EPU-30 Polyurethane Foam Processing Ear Plug Line
| | | | | | | | | |
| --- | --- | --- | --- | --- | --- | --- | --- | --- |
| Foam type | Number of work position | Injection flow rate( mix ratio =1:1) | PLC system | Polyether polyol metering pump | Isocyanate metering pump | Volume of tank | Total power | Size |
| Flexible foam | 30 | 5-20g/s | Fatek | JR-6 | JR-2.4 | 120L | 32KW | L7300×W1100×H1350 mm |
---
LXPU-EPU-45 Polyurethane Foam Processing Ear Plug Line
| | | | | | | | | |
| --- | --- | --- | --- | --- | --- | --- | --- | --- |
| Foam type | Number of work position | Injection flow rate( mix ratio =1:1) | PLC system | Polyether polyol metering pump | Isocyanate metering pump | Volume of tank | Total power | Size |
| Flexible foam | 45 | 5-20g/s | Fatek | JR-6 | JR-2.4 | 120L | 35KW | L8800×W1100×H1350 mm |
---
Index
PU earplug equipment, PU processing equipment, PU foam production line