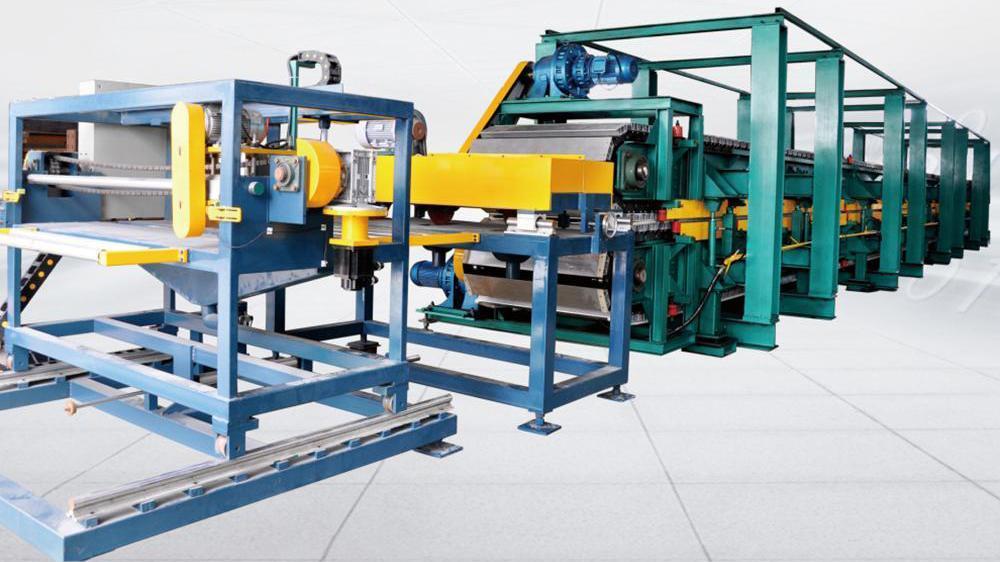 Recommended application
The PU sandwich panel production line is used in the production of diverse sheet products that use polyurethane as the sandwich filler material, such as cold storage insulation boards, wall panels, interior wall decorative boards, roofing panels, thermal insulation boards, hard-surface and soft-surface insulation panels.
The entire line is PLC controlled, with a maximum production speed of 8 meters/minute, which significantly improves efficiency and lowers labor costs.
Application
Technical parameters
Raw material viscosity (22℃)
polyhydric alcohol: 2000MPas
polyisocyanate: 1000MPas
Injection pressure
10~20MPa(ADJ)
Mix ratio
1:5~5:1 (ADJ)
Injection time
0.5~99.99 S (Accurate to 0.01 S)
Material temperature control error
±2℃
Repeated injection accuracy
±1%
Injection flow rate
270-1300g/s
Hydraulic system pressure
10~20MPa
Volume of tank
250L
Production line operation speed
3-8m/min
Compressed air consumption( dry and no oil)
P: 0.7MPa
Q: 600NL/min
Power
40KW
Input voltage
three-phase five-wire, 380V
Detailed drawing
Features
1. The high precision plunger variable pump is accurate and steady.
2. This feeding program provides 100 stations, with every station able to be programmed to meet the production needs for multiple products.
3. The mixing head used for injection can freely move in 6 directions, including front/back, left/right, and up/down. The double close switch control ensures accurate injection.
4. The high precision mixing head is made of a high strength material with a service life of more than 500,000 uses. High pressure injection and impact mixing produce a high mixing uniformity, and the self-cleaning function ensures there is no residue, and no need to clean or maintain the equipment.
5. The pressure needle valve uses two raw material types (polyisocyanate and polyhydric alcohol) and will automatically lock when they balance, ensuring the pressure between the two raw materials is consistent.
6. Magnetic coupling uses a permanent magnet control which avoids temperature rises and leaks.
7. The raw material timing cycle function ensures the raw materials do not crystalize when the equipment is not in use.
8. A fully digitized and modularized integration system controls all technological process, which is visualized, precise and safe to operate.
Models
LXPU-SP-24 Polyurethane Foam Core Sandwich Panel Line
| | | | | | | | |
| --- | --- | --- | --- | --- | --- | --- | --- |
| Foam type | Injection flow rate( mix ratio =1:1) | Mixing head | Polyether polyol metering pump | Isocyanate metering pump | Volume of tank | Total power | Input voltage |
| Rigid foam | 270-1300g/s | Korea SPU | A2VK-28 | A2VK-12 | 250L | 35KW | 380V 50Hz |
---
Index
PU equipment, insulated panel equipment, PU foam production line