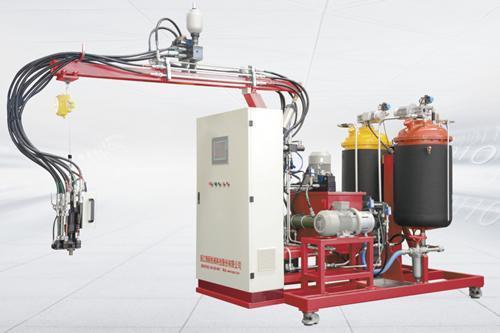 Recommended Application
The high pressure polyurethane foaming machine is used for the production of polyurethane products by mixing and pouring polyurethane all performed automatically. PU foaming machine is compatible with 141B foaming and complete water foaming systems.
The high pressure foaming machine provides pressure generated from its main pump. The polyhydric alcohol and polyisocyanate materials will be mixed under high pressure. Therefore, the mixing head is easy to use and does not need regular cleaning, and the foaming quality is higher than other mixing operations.
The series of high pressure foaming machine is specially designed to produce flexible polyurethane foam plastics. These sort of material foam plastics have a porous structure with low density and good elasticity. They are widely used as furniture cushion, mattresses, car seat covers, sofas, pillows and so on.
Application
Technical parameters
Raw material viscosity (22℃)
Polyhydric alcohol: 2000MPas
Polyisocyanate: 1000MPas
Injection pressure
10~20MPa(ADJ)
Mix ratio
1:5~5:1 (ADJ)
Injection time
0.5~99.99 S (Accurate to 0.01 S)
Material temperature control error
±2℃
Repeated injection accuracy
±1%
Hydraulic system flow
10L/min
Hydraulic system pressure
10~20MPa
Volume of tank
280L
Compressed air consumption( dry and no oil)
P: 0.7MPa
Q: 600NL/min
Heating power
2×6Kw
Input voltage
three-phase five-wire, 380V
Detailed drawing
Features
1. The Gelanrex high precision plunger variable pump provides accurate and steady operation.
2. This feeding program provides 100 stations, and every station can be set directly to meet the production of multiple products.
3. The mixing head used for the injection process can move freely in six directions, include front and back, left and right, up and down. Additionally, the double close switch control ensures accurate injection.
4. The high precision mixing head is made of high strength material. The service life is over 500,000 uses. High pressure injection and impact mixing produces a high level of mixing uniformity. The machine's self-cleaning function leaves no residue, meaning no cleaning and no maintenance.
5. The pressure needle valve handles two kinds of raw materials (polyisocyanate and polyhydric alcohol) and they will be automatically locked when they achieve mixing balance, to ensure the pressure of the two materials is consistent.
6. The magnetic coupling adopts permanent magnet control that prevents temperature increases and leakages.
7. The raw materials timing cycle function makes sure the raw material does not crystallize when the equipment is not being used.
8. A fully digitized and modularized integration system controls all technological process. It features excellent visualization for precise and safe operation.
Models of Flexible Foam High Pressure Polyurethane Foaming Machine
If you do not find what you need on this table, please contact Lingxin directly and customize the polyurethane equipment that meets your actual needs.
LXPU-H2-L25 Flexible Foam High Pressure Polyurethane Foaming Machine
| | | | | | | |
| --- | --- | --- | --- | --- | --- | --- |
| Foam type | Injection flow rate( mix ratio =2:1) | Mixing head | Polyether polyol metering pump | Isocyanate metering pump | Total power | Size |
| Flexible foam | 70-350g/s | 1014L-2K, four tubing and two oil cylinders. | A2VK-12 | A2FK-5 | 29KW | 4200x2000x2900mm |
---
LXPU-H2-L50 Flexible Foam High Pressure Polyurethane Foaming Machine
| | | | | | | |
| --- | --- | --- | --- | --- | --- | --- |
| Foam type | Injection flow rate( mix ratio =2:1) | Mixing head | Polyether polyol metering pump | Isocyanate metering pump | Total power | Size |
| Flexible foam | 160-800g/s | 1218L-2K, four tubing and two oil cylinders. | A2VK-28 | A2VK-12 | 36KW | 4200x2000x2900mm |
---
LXPU-H2-L110 Flexible Foam High Pressure Polyurethane Foaming Machine
| | | | | | | |
| --- | --- | --- | --- | --- | --- | --- |
| Foam type | Injection flow rate( mix ratio =2:1) | Mixing head | Polyether polyol metering pump | Isocyanate metering pump | Total power | Size |
| Flexible foam | 380-1850g/s | 1422L-2K, four tubing and two oil cylinders. | A2VK-55 | A2VK-28 | 52KW | 4500x2200x2900mm |
---
LXPU-H2-L220 Flexible Foam High Pressure Polyurethane Foaming Machine
| | | | | | | |
| --- | --- | --- | --- | --- | --- | --- |
| Foam type | Injection flow rate( mix ratio =2:1) | Mixing head | Polyether polyol metering pump | Isocyanate metering pump | Total power | Size |
| Flexible foam | 750-3750g/s | 1625-2K, four tubing and two oil cylinders. | A2VK-107 | A2VK-55 | 86KW | 4700x2300x2900mm |
---
Index
PU plant, PU processing equipment, mix head, metering pump, PU foam production lines