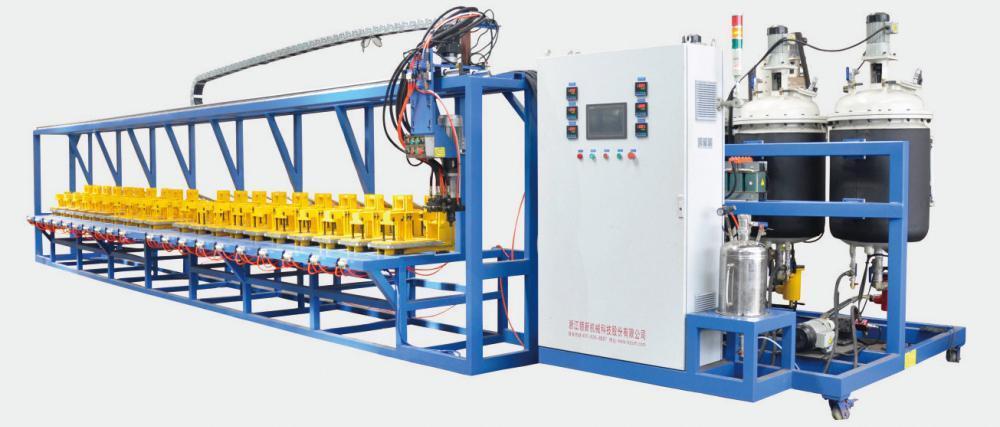 Recommended application
The polyurethane sole/insole production line is used for the production of polyurethane, breathable athletic shoe insoles, insole cushions, memory foam insoles, and slip/wear resistant insoles.
Application
Technical parameters
Raw material viscosity (22℃)
Polyhydric alcohol: 3000MPas
Polyisocyanate: 1000MPas
Injection flow rate
20-90g/s
Mix ratio
100:50~100:150
Injection time
0.5~99.99 S (Accurate to 0.01 S)
Material temperature control error
±2℃
Repeated injection accuracy
±1%
Volume of tank
120L
Production line operation speed
3-10m/min
Heating power
25Kw
Input voltage
three-phase five-wire, 380V
Detailed drawing
Features
The PU shoe sole\insole production line is equipped with 60 working carts, and each product mold is placed in order, from 1 to 60, in each working cart. The weight of the PU foam material that needs to be infused with the corresponding serial number mold is programmed in advance using the PLC control systems. The 60 workstations correspond to the molds on the cart.
The user can personally set the flow rate of each workstation. During the production process, each workstation needs to accurately correspond to the related mold, thus simultaneously producing 60 different products.
Models
This is the product table for customers to choose from. If you do not find a model that suits your needs, contact Lingxin directly, and we will customize polyurethane equipment to meet all of your production needs.
LXPU-SPU-20 Polyurethane Foam Equipment for PU Shoe Sole Cushioning
| | | | | |
| --- | --- | --- | --- | --- |
| Foam type | Injection flow rate | Volume of tank | Total power | Size |
| Flexible foam | 20g/s | 120L | 30KW | 19000×1800×1500mm |
---
LXPU-SPU-60 Polyurethane Foam Equipment for PU Shoe Sole Cushioning
| | | | | |
| --- | --- | --- | --- | --- |
| Foam type | Injection flow rate | Volume of tank | Total power | Size |
| Flexible foam | 60g/s | 120L | 30KW | 19000×1800×1500mm |
---
LXPU-SPU-90 Polyurethane Foam Equipment for PU Shoe Sole Cushioning
| | | | | |
| --- | --- | --- | --- | --- |
| Foam type | Injection flow rate | Volume of tank | Total power | Size |
| Flexible foam | 90g/s | 120L | 30KW | 19000×1800×1500mm |
---
Index
PU equipment, PU processing equipment, PU foam production line